Colorectal Cancer 2019
About Conference
The European Committee welcomes you to attend the 4th Edition of International Conference on Colorectal Cancer 2019, focus on Current Advancements and its Applications in colorectal cancer therapies and other issues in colorectal cancer research from October 9-10, 2019 in Dublin, Ireland. This Colorectal Cancer Conference theme will be addressing regarding "Prominent advances in development of modern Colorectal Cancer " which will provide an international platform for discussion of present and future challenges in Colorectal Cancer, Colorectal Cancer Screening, continuing education and expertise meeting. World's foremost health clinicians, Immunologists, educators and researchers will present leading-edge and practical operations based upon truly accepted evidence and will initiate new and originate research.
What's New
Colorectal Cancer Conference 2019 includes international attendee workshops, lectures and symposia, including accessible registration area, and to ease up and delight. Colorectal cancer professional can join the EuroSciCon as an international member to receive discounts on registration. So, come and accompany prominent experts and gather professionals from October 9-10, 2019 in Dublin, Ireland to keep up with the quickly accelerate pace of differences that is already having an impact on the field of Colorectal cancer Research, and will rectify eventually in this cancer conferences.
Benefits for Conference Attendees
For Researchers & Professors:
Speaker Presentations
Poster Display
Symposium hosting
Workshop organizing
For Associations, Universities & Societies:
Association Partnering
Collaboration proposals
Academic Partnering
Group Participation
For Students & Research Scholars:
Poster Competition
Young Researcher Forum
Group Registrations
For Business Delegates:
Speaker Presentations
Symposium hosting
Book Launch event
Audience participation
For Companies:
Exhibitor Booths
Sponsorships opportunities
Product launch
Workshop organizing
Scientific Partnering
B2B interaction with clients
Why to visit the colorectal cancer conference 2019?
Colorectal cancer conference 2019 will congregate the unified spectrum of the colorectal cancer, regarding its prevention, analysis & cure, treatment, side effects of prescription, supportive care, quality-of-life, and survivorship issues in the field of colorectal cancer. It will include the use of technologies, both in the diagnosis and treatment against colorectal cancer. The colorectal cancer conference 2019 will provide clinicians and researchers with a platform to publicize their subjective experiences to a huge public as well as to know interesting cases regarding colorectal cancer come across by colleagues all over the world.
About city
Dublin is the capital and largest city in Ireland. Dublin is in the province of Leinster on the east coast of Ireland, at the mouth of the River Liffey and bordered on the south by the Wicklow Mountains. Dublin was as a global city, with a ranking of "Alpha-", which places it amongst the top thirty cities in the world. It is a historical and contemporary Centre for education, the art, industry, administration, and economy. There are many historical monuments and landmarks in the great city of Dublin some of the area include the Mansion House, the Anna Livia monument, the Molly Malone statue. A proud moment to introduce the 4th Edition of International Colorectal cancer conference to the imperial city Dublin, Ireland.
Target Audience
An excellent opportunity to share ideas, & researches in the Oncology conferences 2019 on Colorectal Cancer, to understand it and try spreading the prevention which is only possible with the support of all of you, which will be happening in this Colorectal Cancer conferences
Professors
Associate professors
Surgeon
Medical oncologist
Radiation oncologist
Gastroenterologist
Health care professionals
Physician assistants
Oncology nurses
Social workers
Pharmacists
Counselors
Dietitians
Research scholars & students.
Sessions & Tracks
Colorectal cancer develops in the colon or the rectum, also known as the large intestine the small and large intestine is sometimes called the small and large bowel. Colorectal cancer usually develops gradually, over a period of 20 to 30 years. Most begin as a noncancerous growth called a polyp that develops on the inner lining of the colon or rectum. Colorectal cancers are due to olden age and lifestyle aspect. Symptoms typically only appear after cancer has fattened or extended.
Adenomatous Polyps

Hyperplastic Polyps

Dysplasia

Bowel Cancer

Rectal cancer

Colon cancer

Adenocarcinomas

Gastrointestinal stromal tumors (GISTs)
Colorectal cancer symptoms may be minor or hypothetical during the early stages of the disease, although there may be some early warning signs. The symptoms of colorectal cancer may not expand until the disease has advanced into stage II or beyond. Regular screening tests for cancer of the colon or rectum, predominantly with a colonoscopy, is recommended as part of a health plan for those over 55 years old or those under 55 who are at high risk or have a family history of the disease or other cancers. Local symptoms of colorectal cancer
Change in bowel habits

Blood in the stool

Anemia

Abdominal pain

Weight loss

Vomiting

Diarrhea

Constipation
Colorectal Screening give a complete analysis of colon cancer screening, from epidemiology, to the present-day screening techniques such as stool DNA, Narrow Band Imaging, High Definition Colonoscopies and Computerized Tomography (CT) Colonography. Colorectal cancer almost always grows from precancerous polyps (abnormal growths) in the colon or rectum. Screening techniques can find precancerous polyps, so that they can be removed before they turn into cancer. Screening tests can also find colorectal cancer quick, when treatment works best.
Flexible Sigmoidoscopy

CT Colonography (Virtual Colonoscopy)

Stool DNA test (FIT-DNA)

Colonoscopy

Double-contrast barium enema
Radiation therapy is not a common way to treat colon cancer, though it may be used in certain circumstances. Radiation therapy, with chemotherapy, is frequently used in the adjuvant or neoadjuvant setting for the treatment of rectal cancers, whereas chemotherapy alone is more common for the auxiliary and neoadjuvant treatment of colon cancers. Throughout radiation therapy, high-energy x-rays are used to kill cancer cells. In advanced stages of colon cancer, radiation therapy is often given alternatively of surgery when an operation cannot be performed.
Intra-operative radiation therapy (IORT)

External beam radiation therapy (EBRT)

Intensity Modulated Radiation Therapy (IMRT)

Radio-embolization

Endocavitary radiation therapy
Lynch syndrome or Hereditary Nonpolyposis Colorectal Cancer (HNPCC) is an autosomal dominant genetic state that is integrated with a high risk of colon cancer as well as other cancers including endometrial cancer (second most common), small intestine, hepatobiliary tract, ovary, stomach, brain, skin and upper urinary tract.
Colon Polyps

Immunohistochemistry (IHC)

Microsatellite instability (MSI)

MLH1 & MSH2 gene

MSH6, PMS2, and EPCAM (Epithelial Cell Adhesion Molecule)
Inflammatory bowel diseases such as Crohn disease or ulcerative colitis are incorporated with colorectal cancer, as is the presence of a large amount of noncancerous polyps along the wall of the colon or rectum. The earliest phases of colorectal tumorigenesis initiate in the normal mucosa, with a generalized disorder of cell replication, and with the appearance of clusters of enlarged crypts (aberrant crypts) showing proliferative, biochemical and biomolecular abnormalities. The larger part of colorectal malignancies initiate from adenomatous polyps. These can be explained as well demarcated masses of epithelial dysplasia, with uncontrolled crypt cell separation. An adenoma can compare malignant when neoplastic cells pass through the muscularis mucosae and infiltrate the submucosa.
Adenocarcinoma in situ

Adenocarcinoma

Medullary carcinoma

Mucinous carcinoma

Signet ring cell carcinoma

Squamous cell (epidermoid) carcinoma

Adenosquamous carcinoma

High grade neuroendocrine carcinoma
Tumor is an unusual growth of cells that serves no objective. Benign tumor is not a malicious tumor, which is cancer. Most colonic tumors are benign epithelial polyps. Growth of a benign tumor might be linked to Environmental toxins, such as exposure to radiation, Inflammation or infection, Diet and Stress, Local trauma, injury, Genetics. Types of Benign Tumors include Adenomas and Fibromas.
Fecal Incontinence

Anal Sphincter

Rectal Prolapse

Retrospective Cohort Analysis

Crohn's Disease

Irritable Bowel Syndrome (IBS)

Bowel Incontinence
Cancer cells may break away from a tumor in the colon or rectum and develop to other parts of the body through the lymphatic system or bloodstream. These cells may settle and form new tumors on a non- identical organ. Even though the cancer has spread to a new organ, it is still named after the part of the body where it initially started. So colorectal cancer that metastasizes, to the lungs, liver or any other organ is called metastatic colorectal cancer. The most common site of metastases for colon or rectal cancer is the liver.
Interventional Radiology

Chemotherapy for Metastatic Colorectal Cancer

Metachronous Disease

Non-resectable tumors

Resectable liver metastasis

Lymph Nodal Metastases
Screening for colon cancer, which is predominantly recommended for all people age 45 and older, can specify a problem, but it cannot precisely diagnose the disease. Instead, a diagnostic (rather than a screening) colonoscopy, biopsy, and imaging tests are needed to approve and define the extent of colon cancer. While many people start this action because of habitual recommended checks, others do so because of worrisome symptoms, an unusual physical examination, or a new finding on a lab test.
Diagnostic Colonoscopy

Biopsy

Computed tomography (CT or CAT) scan

Magnetic resonance imaging (MRI)

Positron emission tomography (PET) or PET-CT scan

Proctoscopy
A colectomy is surgery to cut all or part of the colon. Nearby lymph nodes are also removed. If only part of the colon is removed, it's called a hemicolectomy, segmental resection or partial colectomy. The surgeon takes out the part of the colon with the cancer and a small segment of normal colon on either side Surgery is often the main treatment for earlier-stage colon cancers. The type of surgery used depends on the stage of the cancer, where it is, and the aim of the surgery. The following are type of surgery included
Laparoscopic surgery

Colostomy for rectal cancer

Radiofrequency ablation (RFA) or Cryoablation

Local excision

Anastomosis

Ablation and Embolization
All colorectal cancers induced by a transmitted mutation – a genetic change that can be progressed from parent to child. The major subtypes of congenital colon cancer and some rare conditions include an inherited risk for colorectal cancer. In some families if there is a strong hint or symptoms present genetically from ancestors, may pass that mutated gene from parent to offspring. The disease susceptibility of these families occurs unusually or by genetic mutations which might not been observed that easily because mutations occur in gene like APC, KRAS, TP53, SMAD4 THAT that lead cells to extend uncontrollably resulting in Colorectal Cancer. Genetic experts and physicians can help understand colorectal cancer risk and type.
History & family background

Familial adenomatous polyposis (FAP)

Hereditary nonpolyposis colorectal cancer (HNPCC)

Attenuated familial adenomatous polyposis (AFAP)

Irritable Bowel Disease (IBD)

Inherited syndrome

Lynch Syndrome

Mutation Associated Polyposis

Peutz Jeghers Syndrome

MUTYH Associated Polyposis
Immunotherapy treatments can act as a catalyst or healer for ideal immunologic conditions that could increase the lives of colorectal cancer patients. The recent progress of certain Immune-tool help to classify tumors; recognize the rate of survival in patients with colorectal cancers, issuing precise diagnosis information that can improve the clinical decisions and treatment of patient. It is believed that if immunotherapy is used as cure not only in colorectal cancer but for other type of cancer diseases it will be a ray of hope for future medical research in diagnosing the disease quickly and to cure it. Some of the immunotherapy includes
Biological response modifiers

Colony stimulating factors

Tumor vaccines

Monoclonal antibodies
Colorectal sarcomas are a group of diversified tumors which can develop in blood vessels, smooth muscles, or other connective tissues in the inner lining of the colon and rectum. It is a very unusual type of cancer; only 0.1% of all colorectal cancers are colorectal sarcomas. Of all colorectal sarcomas, 25.4% develop in the rectum 70.7% develop in the colon, and 3.9% are located in the rectosigmoid region.
Leiomyosarcoma

Histiocytomas

Desmoplastic

Gastrointestinal Stromal Tumor (GIST)

Colorectal Adenocarcinoma

Colorectal Neoplasm
The therapy of colorectal cancer patients is often unsuccessful because of the presence of cancer stem cells (CSCs) resistant to conventional perspective. Dendritic cells-based protocols are maintained to effectively supplement CRC therapy. Comparable methods were introduced with the use of CRC HCT116 and HT29 cell lines. We found that the detailed arrangement of CSC-like markers remarkably influenced the maturation and activation of DCs after stimulation with cancer cells lysates or culture supernatants.
Intestinal Stem Cell

Quiescent Intestinal Stem Cell Markers

Stem Cell Phenotype in Colon Cancer

Cell Surface CSC Markers
A variety of genetic and molecular alterations underlie the development and progression of Colorectal Neoplasia (CRN). Most of these cancers arise sporadically due to multiple somatic mutations and genetic variability. Genetic instability includes chromosomal variability and microsatellite uncertainty, which is observed in most genetic non-polyposis colon cancers (HNPCCs) and accounts for a small proportion of sporadic CRN. Many biomarkers have been utilized in the diagnosis and prediction of the clinical outcomes of CRNs. New markers and genes related with the expansion and progression of CRNs are being discovered at an accelerated rate. CRN is a heterogeneous disease, mainly with respect to the anatomic position of the tumor, race/ethnicity differences, and genetic and dietary interactions that influence its development and progression and act as confounders.
Hereditary CRNs (Colorectal Cancer Neoplasia)

Lesions of CRNs

Sporadic CRNs

Invasive Neoplasia
The colorectal cancer varies in different world regions. The highest colorectal cancer is noted in industrialized countries, and in developing countries Colorectal cancer is not diagnosed high. The number of colorectal cancer cases increases in countries that undergo rapid economic transformations and adopt a Western lifestyle. This observation strongly suggests that one of the key mechanisms of carcinogenesis of colorectal cancer is associated with environmental factors. All cancer treatment is based on stages as each stage has their own variation. In Colorectal Cancer, this variation or treatment is determined by stages only which is divided to 'TNM'-TUMOR, NODE, METASTASIS combination of this three will determine the stage of Colorectal Cancer which initially begins at stage 0 to stage 5. Tumor varies from T0-T4B, similarly for the node also NX to N2B and metastasis is MX-M1B.
Stage 0

Stage I

Stage II A

Stage II B

Stage II C

Stage III A

Stage III B

Stage III C

Stage IV A

Stage IV B
Experiment proofs suggest that lactic acid bacteria may be protective against the development and progression of colorectal cancer through several mechanical functions like antioxidant, immune-modulation, programmed cell death and epigenetic modification of cancer cells. Massive-scale genome progression studies have been done to recognize mutations in colorectal cancer patients' genome.
Mouse model of colorectal cancer

The cancer genome Atlas

Aspirin Drug

Oncotype Dx Screening

Colon Cancer Assay

Coloprint Dx

Immune Checkpoint Inhibitors

Cancer Vaccines

Hyperthermic Intraperitoneal Chemotherapy
Chemotherapy is a treatment that uses various drugs and medication to pause the growth of tumor cells, by destructing or by stopping the division of tumor cell. The chemotherapy taken by mouth or injected into vein or muscle, the drugs reach the bloodstream and cancer cells throughout the body. Chemotherapy can also be done through applying the drugs directly on affected region or via cerebral fluid. Only a small amount of the drug reaches other parts of the body. The way chemotherapy is given depends on the type and stage of the colorectal cancer. There are different chemotherapy drugs for treating colorectal cancer.
Capecitabine (Xeloda)

Irinotecan (Camptosar)

Trifluridine/tipiracil (TAS-102, Lonsurf)

Irinotecan

5-FU with leucovorin and oxaliplatin (called FOLFOX)

Systemic Chemotherapy

Regional Chemotherapy

Adjuvant Chemotherapy

Neoadjuvant Chemotherapy
Market Analysis
Globally more than 1 million people get colorectal cancer every year, rise in about 815,000 deaths as of 2014. Globally colorectal cancer is recognized in highest rates in Australia, New Zealand, Europe and the US. The remedy for colorectal cancer is surgery, chemotherapy, radiation therapy & medical-nursing care. In Europe, colorectal cancer survival rate is less than 60%. Developed countries are higher in colorectal cancer diseases that one in four people die because of this colorectal cancer. The American Cancer Society data in 2006, over 20% of people with colorectal cancer come to medical attention.
The market analysis report suggest that the colorectal cancer mainly effect the developed countries, where the lifestyle is modernized and the proper intake of nutritious food is not observed and fast food is the main source of diet concluded with intake of alcohol consumption and high smoking. Lack of fibers, vitamins and other minerals in food. Apart from that obesity and diabetes is major reason where colorectal cancer begins and it was observed approximately 80% in developed countries like U.S.A, U.K, CANNADA, AUSTRALIA etc. And 20% in developed countries as the intake of food compare to developed countries is better and healthy.
Why to attend the colorectal cancer conference 2019?
Colorectal Cancer is fourth most deadly cancer which at least effect 1.5 billion people every year. To share the knowledge and gain the ideas regarding colorectal cancer can prove worthy to the medical research field especially to the oncology research because of the fast food lifestyle leading to diabetes and obesity the main cause for increase of colorectal cancer.
Colorectal Cancer Diagnostics Market
The global market size of CRC diagnostics is expected to reach $8.1 billion by 2024 from $4.1 billion in 2015 and is predicted to raise at a CAGR of 8.8% over the forecast period. Growing prevalence of Colorectal cancer, gastrointestinal cases, constant technological innovations in diagnostics, and increasing requirement for effective screening tests are some of the main factors prompting the demand for screening tools across the world. Rising awareness and supportive government enterprises are some other factors that are participating to increase the growth of the sector during the forecast period. The global Colorectal Cancer diagnostics market is divided based on technology, application, and region. Rise in aging population and many bowel diseases cases, Obesity, Diabetes, alcohol consumption & smoking are likely to create huge opportunity for rise in CRC diagnostics.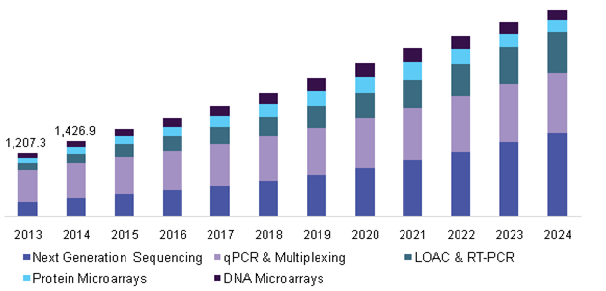 Colorectal Cancer Diagnostics Market, By Technology
Based on technology, the Colorectal Cancer diagnostics market is divided into instrument-based and platform-based. In 2015, the instrument-based segment is predicted to account for a major share of the cancer diagnostics market, by product.
Platform Based:
1) In situ Hybridization
2) Flow Cytometry
3) Next-generation Sequencing
4) Microarrays
5) Chemotherapy
6) Immunotherapy
7) Targeted therapy
Instrument Based:
1) Biopsy
2) Mammography
3) colostomy
4) Sigmoidoscopy
5) MRI
Colorectal Cancer Diagnostics Market, By Application
Based on the application, the diagnostics market is fragmented into breast cancer, lung cancer, colorectal cancer, melanoma, Leukemia and others. Every Cancer has risen in application expected to account for a major portion of the cancer diagnostics market.
Colorectal Cancer diagnostic market, by region
Based on region, the Colorectal Cancer diagnostics market is classified into USA, Europe, Australia, UK, Asia, and Rest of the World. Rest of the World includes Latin America, Pacific countries, and Middle East and Africa. The Colorectal Cancer diagnostic market is higher in USA, Europe, Australia, U.K, followed by Asia and other countries.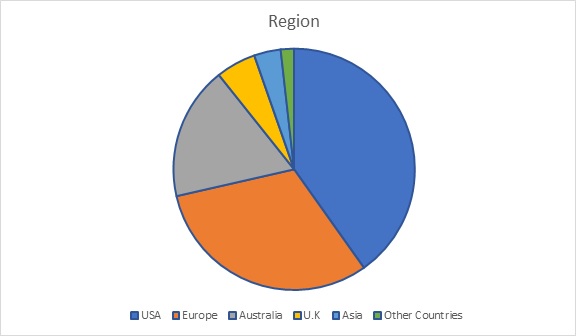 Global Cancer Diagnostic Companies
• Abbott Laboratories, Inc.
• Agilent Technologies, Inc.
• Thermo Fisher Scientific, Inc.
• llumina, Inc.
• Dickinson and Company
• GE Healthcare
• QIAGEN N.V.
• Roche Diagnostics
• Siemens Healthcare
• Philips Healthcare
• C.R. Bard, Inc.
• Abbvie
• Biogen
• Beiersdorf, Inc.
• Biocodex USA
• Danco Laboratories
• Dara Biosciences, Inc.
• Dava Pharmaceuticals, Inc.
• Hemispherx Biopharma, Inc.
• Heron Therapeutics
• Hill Dermaceuticals, Inc
• Janssen Pharmaceuticals, Inc.
• Orexo U.S., Inc.
• Meda Pharmaceuticals
• Salix Pharmaceuticals
• IncNavidea Biopharmaceuticals
• Vanda Pharmaceuticals, Inc.
• Vansen Pharma Inc.
Major Colorectal Cancer Association
• American Association for cancer
• Association of oncology social work
• Cancer research institute
• Irish Cancer Society
• Association France Colon
• Colorectal Cancer Association of Europe
• Colorectal Cancer Association of America
• Colorectal Cancer Association of Canada
• Colorectal Cancer Association of Australia
• National Cancer Society of Malaysia
• National Cancer Institute
• Cancer Research UK
• Association of oncology Social work
• The Association for Cancer Surgery (BASO)
Top universities for colorectal cancer
• Harvard University
• University of Cambridge
• University of Oxford
• Yale University
• University of Texas M.D. Anderson Cancer Center
• Wake Forest University Baptist Comprehensive Cancer Center
• Princess Margaret Cancer Centre, University Health Network
• Stanford University
• Duke University
• University of Nebraska Medical Center
• University of Sheffield
• University of Manchester
• University of Lisbon
• King's College London
• Newcastle University
• University of Nottingham
• University of Glasgow
• University of Milan
• University of Alabama School of Medicine
• Keck School of Medicine of University of Southern California
• Loma Linda University School of Medicine
• University of California, San Diego School of Medicine
• University of Arizona College of Medicine – Tucson
• California North State University College of Medicine
Learn More
Top Colorectal Cancer Universities Worldwide
ESO - European School of Oncology | Kharkiv National Medical University | Medical University – Plovdiv | Medical University – Pleven | Bukovinian State Medical University | KU Leuven – University of Leuven, Belgium | Technical University of Munich | Humboldt University of Berlin | University of Amsterdam | Erasmus University Rotterdam | Leiden University | RWTH Aachen University | University of Groningen | Utrecht University | University of Tübingen | Yerevan State Medical University | University of Copenhagen | Maastricht University | Medical University of Vienna | University of Milan | University of Barcelona
Stanford University | Johns Hopkins School of Medicine | UCSF School of Medicine | Duke University | Yale School of Medicine | Harvard Medical School | UNC School of Medicine | UT Southwestern Medical School | The University of Chicago Pritzker School of Medicine | Maryland School of Medicine | University of Cincinnati Academic Health Center | University of Wisconsin School of Medicine | University of Minnesota Medical School | Stony Brook School of Medicine | Vermont College of Medicine | Wayne State School of Medicine | Emory University: School of Medicine | University of Utah School of Medicine | Vanderbilt University | Penn State Hershey College of Medicine | Alabama School of Medicine | UMASS School of Medicine | Rutgers New Jersey Medical School | Oklahoma College of Medicine
University of Tokyo | National University of Singapore | Kyoto University | University of Hong Kong | Peking University | Seoul University | National Taiwan University | Osaka University | Tsinghua University | Duke-NUS Medical School | Asian Medical Institute | International Medical University | Taipei Medical University | Allianze University College of Medical Sciences | Mahidol University | Herat University Faculty of Medicine | Karaganda State Medical University | Perdana University Graduate School of Medicine | Chongjin Medical University | Nanyang Technological University
Makerere University | University of Ghana At Legon | University of Nairobi | University of Ibadan | University of Botswana | University of Lagos | Cheikh Anta Diop University | University of Dar Es Salaam | University of Cape Town | Stellenbosch University | University of Pretoria | Cairo University | University of Witwatersand | University of Kwazulu-Natal | University of Western Cape | Mansoura University | University of Johanessburg | Orotta School of Medicine | Addis Ababa University | Aga Khan University Medical School | Egerton University Medical School | University of Malawi College of Medicine | Ambrose Alli University | Walter Sisulu University | Busitema University School of Medicine
Worldwide Colorectal Cancer Hospitals
Chiro Hospital Group, Spain | Cyberknife Center Hamburg, Germany | Vithas Xanit International Hospital, Spain | Anadolu Medical Center, Turkey | Hygeia Hospital, Greece | Neolife Oncology Center, Turkey | Medipol Mega University Hospital, Turkey | Teknon Medical Center, Spain | Ruber International Hospital, Spain | British Hospital Lisbon XXI, Portugal | Clinic of L'Alma, France | Clinic Hirslanden & Klinik Im Park, Switzerland | Sanitas Hospitals, Spain | Sant Joan de Déu-Barcelona Children's Hospital, Spain | HM Hospitals, Spain | Koc University Hospital, Turkey | University Hospital HM Montepríncipe, Spain | Medicana Healthcare Group Turkey | University Hospital HM Sanchinarro, Spain | Heidelberg University Hospital, Germany | Hisar Intercontinental Hospital, Turkey | Klinikum Stuttgart, Germany | Nisa Pardo de Aravaca Hospital, Spain | Liv Hospital, Turkey | Hospital Quirón Valencia, Spain
University of Texas MD Anderson Cancer Center, Houston | Memorial Sloan Kettering Cancer Center, New York City | Mayo Clinic, Rochester, Minnesota | Dana-Farber/Brigham and Women's Cancer Center, Boston | UCLA Medical Center, Los Angeles | Moffitt Cancer Center and Research Institute, Tampa, Florida | Seattle Cancer Care Alliance/University of Washington Medical Center | Cleveland Clinic | Johns Hopkins Hospital, Baltimore | UCSF Medical Center, San Francisco | Massachusetts General Hospital, Boston | Hospitals of the University of Pennsylvania-Penn Presbyterian, Philadelphia | Stanford Health Care-Stanford Hospital, California | Northwestern Memorial Hospital, Chicago | Barnes-Jewish Hospital/Washington University, St Louis | University of North Carolina Hospitals, Chapel Hill | New York–Presbyterian University Hospital of Columbia and Cornell, New York City | USC Norris Cancer Hospital-Keck Medical Center of USC, Los Angeles | Wake Forest Baptist Medical Center, Winston-Salem, North Carolina | City of Hope, Duarte, California
Rambam Medical Center, Israel | Gleneagles Global Hospitals, India | Bangkok Hospital Pattaya, Thailand | Sourasky Medical Center, Israel | Mahkota Medical Centre, Malaysia | Apollo Hospital Chennai, India | Gleneagles Medical Centre Penang, Malaysia | Sunway Medical Centre, Malaysia | Bumrungrad Hospital, Thailand | National Cancer Centre, Singapore | KPJ Ampang Puteri Specialist Hospital, Malaysia | BNH Hospital, Thailand | Mount Elizabeth Hospital, Singapore | National University Hospital, Singapore | Rabin Medical Center, Israel | Hadassah University Medical Center, Israel | St. Luke's Medical Center, Philippines | KPJ Damansara Specialist Hospital, Malaysia | Herzliya Medical Center, Israel | Raffles Hospital, Singapore | Assuta Hospital, Israel | Sheba Medical Center, Israel
Hummingbird Cancer Centre, Cape Town, South Africa | Life Healthcare Hospital Group, South Africa | Ahmed Kathrada Private Hospital | DavidAnderson Hospital | Hummingbird Cancer Centre, Cape Town, South Africa | UCT Private Academic Hospital, Cape Town, South Africa | Langenhoven Drive Oncology Centre | Vincent Pallotti Oncology Centre | Solway Oncology Hospital | Constantiaberg Oncology Hospital | Vergelegen Oncology Hospital | African Cancer Center | NutriTherapy, South Africa | PaulRuff,Md, Johannesburg/Soweto, South Africa | Sandton Oncology Centre, South Africa| Rondebosch Oncology Centre | Outeniqua Oncology Unit | Border Oncology Unit | Lowveld Oncology Unit
Colorectal Cancer Societies and Cancer Associations
Asian Colorectal Cancer Societies and Cancer Associations
Asian Clinical Oncology Society: ACOS | Asian Society for Neuro-Oncology |Asian Society of Gynecologic Oncology | Asian Pacific Journal of Cancer Prevention| Australasian Lung Cancer Trials Group | Black Sea Countries Coalition on Breast and Cervical Cancer Prevention | Cancer Therapeutics Research Group | Asian Fund for Cancer Research | Asian Cancer Foundation | Asian and Pacific Federation of Organizations for Cancer Research and Control
African Colorectal Cancer Societies and Cancer Associations
Africa Cancer Foundation | African Cancer Registry Network | African Organisation for Research and Training in Cancer | African Journal of Cancer | Mediterranean Oncology Society | Oncology for Africa ONLUS – Afron | World Health Organisation - Africa Region | African Women's Cancer Awareness Association | Afrox - Improving Cancer Care in Africa | CHOC Childhood Cancer Foundation South Africa | Breast Cancer Initiative East Africa (BCIEA) | African Cancer Registry Network
Colorectal and Cancer Conferences
European Colorectal Cancer Conferences
27th International Oncology research Conferences and Cancer Stem Cells Conferences May 10-12, 2018 Frankfurt, Germany 23rd International Cancer Research Conferences & Pharmacology Conferences March 26-27, 2018 Edinburgh, Scotland; 21st Global Experts Oncology Conferences & Cancer Case Reports conferences February 26-27, 2018 Paris, France; 2nd International Epigenetics Conferences and Chromatin Conferences November 06-08, 2017 Frankfurt, Germany; 2nd World Medical Imaging Conferences and Clinical Research Conferences September 11-12, 2017 Paris, France; 28th Euro Cancer Science Conferences and Cancer Therapy Conferences August 09-10, 2018 Madrid, Spain; International Oncology Conferences and Diagnostics Conferences August 28-29, 2017 Brussels, Belgium; 9th Biomarkers Conferences December 07-08, 2017 Madrid, Spain; 3rdInternational Nuclear Medicine Conferences and Radiation Therapy Conferences March 26-27, 2018 Edinburgh, Scotland; 9th International Leukemia Conferences and Hematologic Oncology Conferences October 05-06,2017 London; 4th World cancer conferences and Cancer Prevention Methods Conferences April 19-21, 2018 Valencia, Spain; NCRI Cancer Conferences November 05-08, 2017 Liverpool, UK; Global Cancer Therapy Conferences August 07-09, 2017 Frankfurt, Germany; 11th European Breast Cancer Conferences Mar 21- 23,2018 Barcelona, Spain ; In vivo model of metastasis Conferences November 27-29, 2017 Berlin, Germany; 25th Biennial European Association for Cancer Research Conferences June 30–July 3 2018 Amsterdam
Asian Colorectal Cancer Conferences
Global Oncology conferences & Cancer conferences March 14-16, 2018 Singapore; 18th Asia Pacific Prostate Conferences Aug 30 - Sep 02, 2017 Melbourne; 32nd International Oncology Nursing Conferences and Cancer Care Conferences Sep 13-14, 2017 Singapore; 43rd Turkish Society of National Hematology Conference November 17-19, 2017 Antalya, Turkey; ESMO Asia Cancer Conference November 17-19, 2017 Singapore; 26th World Cancer Conference November 27-28, 2017 Dubai, UAE; 28th International Society Of Blood Transfusion Conference November 25-18, 2017 Guangzhou , China; Global Oncology Conferences and Radiology Conferences April 16-17,2018 Dubai, UAE; World Hematology Conferences and Medical Oncology Conferences May 28 - 30, 2018Osaka, Japan
USA Colorectal Cancer Conference
International Oncology Conference November 27-28, 201 Georgia, USA; International Cancer Biology Conferences and Therapeutics Conferences October 23-24, 2017 Ontario, Canada; 7th World Breast Cancer Conferences November 1-2, 2017 Toronto, Canada; International Oncology Conferences and Cancer Therapeutics Conferences October 30 - November 01, 2017 Illinois, USA; 59th American Society Of Hematology Conference December 9-12, 2017 Atlanta, United States; 11th International Hematology Conferences on & Hematological Oncology Conferences November 08-09, 2017 Las Vegas, Nevada, USA; International Oncology Conference and Radiology Conferences October 25, 2017 Las Vegas, United States; 4th Annual on Gynecologic Oncology Conferences July 18-19, 2018 Atlanta, USA
African Colorectal Cancer Conferences
AORTIC International Conferences November 7-10, 2017 Kigali, Rwanda; ESMO Africa Cancer Conference February 14-16, 2018 Cape town, South Africa; SASCRO SASMO Cancer Conferences Sandton Convention Centre, South Africa; SASCeTS & Clinical Haematology Society Cancer Conference November 4, 2017 Cape town, South Africa
CA - A Cancer Journal for Clinicians | Nature Reviews Cancer | The Lancet Oncology | Journal of Clinical Oncology | Nature Reviews Clinical Oncology | Annals of Oncology | Cancer Research | Cancer Discovery | Clinical Cancer Research | Neuro-Oncology | Journal of Thoracic Oncology | International Journal of Radiation Oncology Biology Physics | Radiotherapy and Oncology | Cancer and Metastasis Reviews | Journal of Cancer Survivorship | Psycho-Oncology | Seminars in Radiation Oncology | Current Opinion in Oncology | Critical Reviews in Oncology/Hematology | Journal of Hematology and Oncology | Journal of the National Cancer Institute
Colorectal Cancer Based Companies
Colorectal Cancer Based Companies in Europe
Sol Et Salus Spa | Sanera Pharmaceuticals | Aromics | Kuzey Pharma | Remedica Ltd | Azanta | Bone Therapeutics | Iteos Therapeutics | Regenesys (Athersys) | Linatech| Dandrit Biotechnology |Dako (Agilent) | H-Immune | Pierre Fabre |Oncodesign | Anagenesis Biotechnologies | Apcure | Ose Immunotherapeutics | Aratinga Bio | Genclis | Vaxon Biotech | Ibt Bebig
Colorectal Cancer based Companies in USA
Gilead Sciences, Inc. | AMGN | Biogen, Inc. | Celgene Corporation | Regeneron Pharmaceuticals, Inc. | Alexion Pharmaceuticals Inc. | Vertex Pharmaceuticals| Illumina | BioMarin Pharmaceutical Inc. | Agilent Technologies, Inc. | Flatiron Health | Epizyme | ARMO Biosciences | Guardant Health | Tesaro | bluebird bio | effector Therapeutics | Mersana Therapeutics | CytomX Therapeutics | Edico Genome | Raze Therapeutics | G1 Therapeutics | Agenus Inc. | Personal Genome Diagnostics (PGD) | VentiRx Pharmaceuticals
Colorectal Cancer Based Companies in Asia
Hanmi Pharmaceutical's New Bio Manufacturing Plant | Boehringer Ingelheim | WuXi Biologics' Perfusion Biologics | Pfizer's Global Biotechnology Centre | GlaxoSmithKline's (GSK) Pharmaceutical Inc. | Affymetrix Inc | Daiichi Pharmaceutical Company | Merck Serono's Pharmaceuticals | Novartis Institute of BioMedical Research | Searle Pharma Medication Production Plant | Shionogi Pharmaceutical Research Facility | Taiyo Pharmaceutical Industry | WuXi Biologics' Perfusion Biologics | Nippon Shinyaku Corporation | Medlac Pharmaceutical Plant | Lonza Niacinamide Production Facility | Kemwell Biopharmaceuticals Inc. | GE Healthcare Shanghai Pharmaceutical Manufacturing Plant | AstraZeneca Pharmaceutical Manufacturing Plant | Alcon Pharmaceutical Facility | Beike Biotechnology Stem Cell Storage and Processing Facility
Colorectal Cancer Based Companies in Africa
AstraZeneca Pharmaceuticals Ltd | Lilly Oncology - Lilly South Africa | Warren Chem Pharmaceuticals | Biotech Laboratories Ltd | Janssen Pharmaceuticals | Axim Pharmaceuticals | Pharmaceutical Industries | Enaleni Pharmaceuticals Ltd | Amalgamated Pharmaceuticals | Dibana Pharmaceuticals | Abbott Laboratories SA | Teva Pharmaceuticals Ltd | Amka Pharmaceuticals Ltd | Medimoc Sarl | Embassy Pharmaceuticals | S D V Pharmaceuticals | Georen Pharmaceuticals Ltd | Allied Drug Company Ltd | Pharmacare International Ltd
Colorectal Cancer Based Job opportunities
Colorectal Cancer Based Job Opportunities in Europe
Senior Scientific Officer – Bioinformatician jobs | Cellular Assay Development Scientist jobs | Head of Science Media jobs | Senior Scientist - Large Molecule Analysis jobs | Technical Lead - Analytical Services jobs | Head of ECMC Programmed Office jobs | Head of Commercial Partnerships – Bioinformatics jobs | Sr Site Specialist jobs | Regional Manager - Managed Services jobs | Project Research Scientist in Cancer Genetics jobs | Postdoctoral Fellow - CRUK Grand Challenge: Mutographs of Cancer – Cambridge jobs | Senior Research Funding Manager (Discovery Research) jobs | Senior Science Communication Manager jobs | Doctoral candidate (PhD student) in the field of RAS cancer drug development jobs | Senior Oncology Biologist - Cambridge, UK jobs | Protein Scientist jobs | Research Management & Communications Officer jobs | Senior Scientific Officer – Metabolomics jobs | Recruitment Consultant - Life Science - South East jobs | Associate or Full Professor in the Field of Translational Research in Oncology jobs, Geneva, Switzerland | Chief Executive Officer jobs, Strasbourg Cedex, France | Independent Junior Group Leader, Vienna, Austria | Oncology Clinical Trials Fellow, London, UK | Doctor Specialized in Oncology, Belgium | Head of Oncology, Belgium | Clinical Project Manager jobs - Steven age, Hertfordshire | Senior Scientist - Assay Development - Steven age, Hertfordshire | Freelance Editors jobs - Medicine, Life Sciences, Physical Sciences, Psychology | MSc in Cancer Cell Biology – Sussex | Associate Scientist - Steven age, Hertfordshire
Colorectal Cancer Based Job Opportunities in USA
Postdoctoral Fellow jobs | Assistant or Associate Professor jobs - Genome Editing & Functional Cancer Genomics | Faculty Positions in Immunology Dana-Farber Cancer Institute/ Harvard Medical School | Tenure-track Assistant Professor jobs Cancer Biology| PhD Studentships | Senior Research Funding Manager jobs | Physician-Scientist, Oncology/Neoplasia jobs | Research Scientist | Research Fellow | Sr Scientist jobs -Belter Center | Faculty Positions in Cancer Research, Harper Cancer Research Institute, University of Notre Dame | Postdoctoral Scholar in Cancer Metastasis and Nanomedicine | Postdoctoral Researcher or Scientist Positions in Cancer and Environmental Stressors | Faculty Member - Biomedical Research | Assistant Professor jobs in Stem Cell and Regenerative Biology | Director, Oncology Promotions / Marketing | HIM - Remote Oncology Data Consultant | R&D Clinical Project Manager jobs - Life Sciences | Medical Director – Oncology | Research Scientist in Immuno-Oncology Job | Clinical Team Leader – Oncology | Senior Director jobs, National Oncology Account Team East | Scientist jobs, Cancer Cell Dependencies, Oncology Research | Director jobs, In-Office Dispensing Operations | Scientist I jobs- Oncology Research | Oncology Medical Science Liaison - Solid Tumors | Director Companion Diagnostics - US Commercial – Oncology | Registered Nurse jobs, Cancer Center of the Rockies PRN | Oncology Clinical Educator jobs - South Carolina | Medical Oncologist/Hematologist jobs
Colorectal Cancer Based Job Opportunities in Asia
Consultant jobs, Pediatric/Adult Oncology | Consultant jobs in Pediatric Hematology/Oncology | Consultant - | Medical Oncologist jobs | Gynecologist jobs with Laparoscopy Gynecology/Oncology | Surgical Oncologist jobs | Western Qualified Consultant Doctor/s | Radiology Consultant jobs | Senior Consultant Medical Oncologist jobs | Chairman of Oncology jobs | Clinical Oncologist jobs | Pediatric Hematology Oncology Consultant jobs | Consultant jobs in Pediatric Hematology/Oncology & Stem Cell Transplant | Consultant Palliative Care/Arabic speaking jobs | Assistant Consultant jobs Radiation Oncology | Oncology Radiation Therapist jobs | Associate Director jobs, Worldwide HEOR, Oncology | Senior Medical Director jobs - Oncology Development | Regional Medical Science Director jobs – CNS – West | Program Manager and Investigator jobs | Oncology Clinical Director jobs | Research Scientist jobs Breast Cancer Research Team | Post-Doctoral Research Scientist jobs (Head and Neck Cancer)
Colorectal Cancer Based Job Opportunities in Africa
Medical Manager Oncology jobs | Senior Research Funding Manager jobs | Physician-Scientist jobs Oncology/Neoplasia | Research Scientist jobs | Research Fellow jobs | Senior Pharmacist jobs Backup to Oncology Gatesville Cape Town | Radiotherapist jobs - Oncology |Registered Nurse jobs - Oncology Trained | Customer Service Clerk jobs -Oncology | Insight leader: Oncology jobs | Pre-AUTH Consultant jobs | Pharmacist Assistant jobs Basic Qualified - Glen Marais | Senior Clinical Research Associate jobs | Registered Nurse Oncology jobs | Chemotherapy RN jobs for Cape Town City Centre | Hematology RN jobs for Southern Suburbs | Technician/Research Technologist I jobs, South Africa | Field Worker jobs – PE | General Assistant jobs – PE | Unit Manager jobs – Radiotherapy | Medical Affairs Manager jobs | Enrolled Nurse jobs – Oncology | Permanent Registered Nurse jobs with Oncology trained or experience needed in Pinelands, Cape Town| Head Of Department jobs - Disease Risk Manager